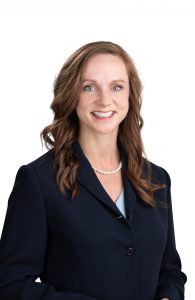 KNOXVILLE, Tenn. and Dothan, Ala. – SmartBank is pleased to announce that Laura Watford, Regional Credit Officer for the South Alabama region, based in Dothan, AL, graduated from the Alabama Banker's Association's Bank Executive Leadership (B2L) program in June.
"We are so proud of Laura for completing the B2L program and being proactive in her career development," said Billy Carroll, SmartBank's President and CEO. "We are lucky to have a team member that is committed to providing employees and customers with strong leadership and service."
The 18-month B2L program educates banking professionals on the leadership skills needed to successfully manage, communicate, and develop their banking teams. The tools the program provides its participants focus on internal communications, strategic thinking, and team building. B2L also affords its students a network of fellow leaders by providing a platform for relationship building and communication between program members. Program participants can measure their professional development by analyzing their progress based on self-assessments taken before and after the program is completed.
Laura Watford has led the South Alabama credit team, supporting the credit and underwriting needs of commercial and private banking teams in Auburn, Dothan, and Montgomery, as a Regional Credit Officer since 2021. With over 10 years of experience as a Credit Officer and her background in public accounting, Laura's desire to continue learning about the best practices in banking leadership. The B2L program offers access to the skills necessary for effective leadership and team development.
"We are impressed by the drive Laura has shown through continuing education," said Jeff Williams, Regional President. "We are delighted by her devotion to her team and look forward to watching her lead with the skills she's gained through the B2L program."
SmartBank continues to grow in Dothan. Most recently, the group purchased the historic Ellison Building in downtown Dothan. The value added through employee leadership opportunities like the B2L program makes the banking team unique to Dothan. SmartBank is pleased by Laura's commitment to strengthening relationships with both clients and employees in the region.