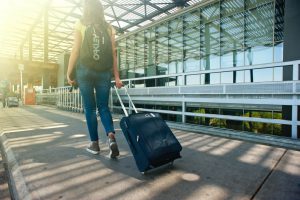 Vacation is a time to destress, relax, and recharge. And nothing can spoil those good vibes faster than a financial headache—especially one that you are trying to deal with from the beach or a mountainside cabin.
Just like you take care to pack all the items you need, putting just a little forethought into your financial trip planning will make for a smoother trip with less potential for hiccups. Here are 6 things to keep in mind before you hit the road and while you are on it.
Make a vacation budget
Establishing a financial game plan from the get-go will help make sure you do not overspend, which can be easy to do if you are plunking down your debit or credit card to pay for meals, souvenirs, and excursions several times throughout the day. Sketch out how much you have earmarked for each category before you leave for vacation. When you have a number in your head it is easier to ask yourself if this particular item or outing is really what you what you spend your allotted money on. The bonus of making and sticking to a budget is that it will make it easier to take another vacation in the near-term—something that might not be as easy or appealing if you return home in a major hole.
Give your bank and credit card companies a heads-up
SmartBank uses a fraud detection service that continually monitors customer accounts for signs of potential fraud. If potential fraud has been spotted, the bank may temporarily block your ability to make purchases using your debit card until we can verify you are the one trying to, say, rent kayaks in Oregon. By notifying us in advance, you can avoid charges being declined.
Carry some cash on you
Sure, it may sound like advice your parents or grandparents would dole out, but that just makes it time-tested! It is good to have an alternative way to pay in case anything happens with your primary card or that kayak rental place ends up being cash-only. If you need cash mid-trip, it helps to have the SmartBank app installed. It makes use of your phone's GPS to easily show you the nearest banks and ATMs.
Do not leave your mail unattended
If you're going to be gone for more than a day or two, it would be wise to arrange for a trusted neighbor or family member to pick up your mail, or to put a temporary hold on your mail via the USPS. This will eliminate the chance that someone could notice you are gone and grab mail from your box, potentially gaining access to bank or credit card details.
Use caution with public Wi-Fi
Checking your balances or making a payment via phone or computer? Make sure you are doing so in a secure way, meaning do not use an unsecured network. Ask your hotel for the proper network name and password to use and do not log on to random networks at airports or restaurants.
Start saving for your next vacation
Open a savings account specifically designated for travel. Contribute a set amount each month throughout the year so that when you are next ready to travel, you already have a healthy fund in place.
Do not just go on vacation this summer—go on the best vacation you can. Putting these tips into place will help make that happen.