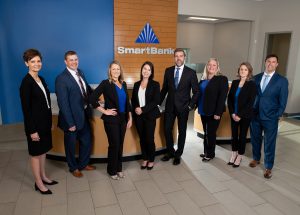 KNOXVILLE, Tenn. and Mobile, Ala. – SmartBank continues to grow and invest in the Florida Panhandle and Southern Alabama coastal markets, recently expanding its lending team by adding eight new bankers. The bank initially entered the Florida Panhandle in 2012 with offices in Panama City, Destin and Pensacola and later acquired a branch in Fairhope, AL through the Capstone Bank acquisition.
The coastal market team will be led by Nate Sommer, Regional President, a veteran in the banking industry and longtime resident of the region.
Sommer joined SmartBank with more than 17 years of banking experience, most recently serving as the Gulf Coast Chief Executive Officer for BBVA where he served in executive management and leadership roles overseeing several lines of business including commercial and industrial; government and institutional; commercial real estate; auto dealer; health care; business banking and private wealth. He was a multiple Pinnacle Club Award winner while at BBVA and Executive Sponsor of BBVA's Volunteer Chapter.  Sommer also led his region's CRA activities, community involvement and volunteer efforts.  He has served as an Advisory Board Member at Goodwill Easter Seals and is a member of Baldwin County Economic Development Alliance.  In addition, he is a graduate of Leadership Mobile.
"We are excited to continue to invest and grow our presence in the coastal market," said Billy Carroll, SmartBank's President and CEO. "We believe there's a bright future for this team and a tremendous opportunity for SmartBank in the Gulf Coast market with the team we've assembled and Nate Sommer's leadership at the helm."
From relationship managers to credit underwriters, Sommer will be supported by an experienced lending team who has an invaluable history and understanding of the market.  Members of the team include Steve Rockwell, Market Executive; Kelly Reynolds, Relationship Manager; Brianna Miller, Loan Administrator; Aaron White, Corporate Relationship Manager; Robin Donlon, Corporate Relationship Manager; Diane Jackson, Credit Underwriter; Debbie Latham, Credit Underwriter; and Jane Wasden, Credit Underwriter.
Rockwell will lead the expansion into the Mobile, AL market as Market Executive. He most recently led BBVA's Private Banking group in Mobile as Senior Private Banker and has over 16 years of banking experience. He was a multi-year Pinnacle Club qualifier during his tenure at BBVA. Rockwell is a graduate of University of South Alabama and Leadership Mobile.
Reynolds will begin her role as a Relationship Manager focused on lending in both the Mobile and Baldwin County markets.  She has been in banking over 18 years, most recently working as a Private Banker for BBVA. She was a multi-year Pinnacle Club qualifier while at BBVA.  Reynolds is a graduate of Auburn University. She is currently participating in Leadership Mobile.
Loan Administrator, Brianna Miller has spent the last 11 years working with BBVA, most recently as a Wealth Management Associate. Miller will work with the Mobile team.
White comes aboard as a Corporate Relationship Manager working out of the Mobile and Fairhope market. He has been working in banking for over 15 years, most recently as a Commercial Relationship Manager for BBVA where he was the top-performing banker in the Gulf Coast Region.
As Corporate Relationship Manager, Donlon will lead the expansion into the Fort Walton Beach market. She comes to us with over 10 years in banking, most recently as a Commercial Relationship Manager for BBVA. Donlon was a multi-year Pinnacle Club Qualifier at BBVA. She will be based in our Destin branch.
Jackson will serve as a Credit Underwriter working out of the Pensacola branch. Bringing over 40 years of banking experience to the team, she most recently served as portfolio manager at BBVA covering the Florida Panhandle.
Finally, Jane Wasden and Debbie Latham will join the team as Credit Underwriters, serving the Fairhope and Mobile markets. Wasden and Latham both served as portfolio managers at BBVA within the Commercial Bank and Private Bank. They each bring over 44 years of banking experience to the team.
"SmartBank's commitment to the Gulf Coast market is evidenced by this recent move of adding such an experienced team of banking professionals that not only have years of banking experience in the area, but also possess strong leadership capabilities and a variety of specialized lending backgrounds," said Nate Sommer, Regional President. "With their combined decades of experience in the industry paired with a strong and well-known legacy banking team already established in the market, we are confident this leadership team will drive our plans for continued growth in South Alabama and the Florida Panhandle."
###
About SmartBank 
Founded in 2007, SmartBank is a full-service commercial bank providing banking, investment, insurance, and mortgage financial services, with 35 branches and one loan production office spanning Tennessee, Alabama, and the Florida Panhandle. Recruiting the best people, delivering exceptional client service, strategic branching and a disciplined approach to lending have contributed to SmartBank's success. For more information on SmartBank, visit www.smartbank.com.