Chattanooga, Tenn. – SmartBank recently made a $10,000 donation to the Top of Georgia Economic Initiative, a nonprofit fundraising arm designed to enhance the marketing efforts of the Northwest Georgia Joint Development Authority (NWGAJDA).
The initiative serves as a way for private individuals or companies to contribute to the economic well-being of the greater Northwest Georgia area including Catoosa, Chattooga, Dade and Walker counties.
SmartBank's Natalie Hunt, who is a senior vice president, relationship manager in Chattanooga, is actively involved with Top of Georgia, currently serving as a board member for the economic initiative.  Hunt was previously nominated to the board by Senator Jeff Mullis, who also serves as the president & CEO of the Northwest Georgia Joint Development Authority.
"We are so grateful for not only SmartBank's donation, but their partnership with us and with our communities as well," said Senator Mullis. "Having Natalie on our board helps us to continue to strive for economic prosperity in our region. SmartBank's active involvement and engagement in the communities we serve help us continue to meet goals and carry out our mission."
Hunt is currently in the second year of a five-year term on the Top of Georgia board and has been impressed with the impact the organization makes in the community.
"Top of Georgia is laser focused on not only the economic growth of the community, but also the overall economic welfare of the community as a whole," said Hunt. "It's an honor serving on the board and I'm grateful SmartBank values the organization and its mission as much as I do."
To learn more about the Top of Georgia Economic Initiative, visit www.topofgeorgia.us/.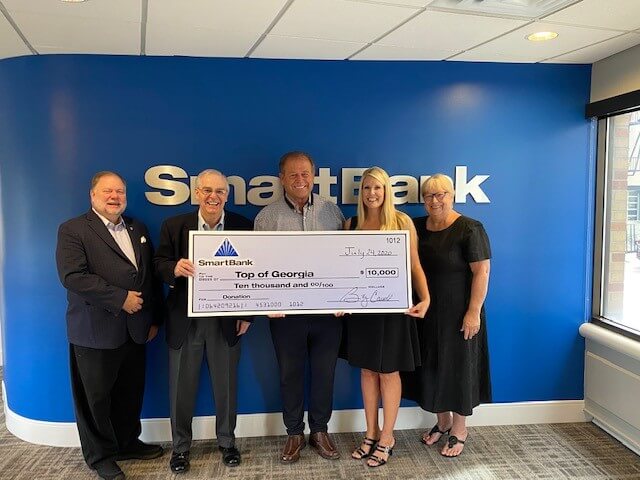 (L-R) Senator Jeff Mullis, Barry Watson, Emerson Russell, Natalie Hunt, and Juanita Hamblen
###
About SmartBank:
SmartBank is a full-service commercial bank founded in 2007, with 36 branches and two loan production offices spanning Tennessee, Alabama and the Florida Panhandle. Recruiting the best people, delivering exceptional client service, strategic branching and a disciplined approach to lending have contributed to SmartBank's success. For more information on SmartBank, visit www.smartbank.com.